Pump Internals
For the pump test laboratories, Conestoga USA, Inc. manufactures a set of vane pump internals which are used as wear specimens in order to judge the anti-wear qualities of the candidate hydraulic fluid or transmission fluid.
Conestoga has spent over 20 years working with ASTM committee members and the labs they represent in order to gain acceptance of the Conestoga pump and to solve the hardware and procedural problems which plagued the original Vickers pump test (D2882, now withdrawn). Conestoga also manufactures a pump housing (B1) which replaces the obsolete Vickers pump housing originally used. The pump internals are used in ASTM D7043, Standard Test Method for Indicating Wear Characteristics of Non-Petroleum and Petroleum Hydraulic Fluids in a Constant Volume Vane Pump (previously D2882), in ISO 20763 Determination of Anti-Wear Properties of Hydraulic Fluids and in similar Ford and GM tests for transmission fluids. The B1 pump housing was recently accepted by ASTM for use in the D7043 test and is gaining acceptance in Europe for use in the ISO method. Some version of the pump test has been in use for over 40 years and Conestoga is uniquely positioned to service its users for the foreseeable future.
As an adjunct to the B1 pump, Conestoga has fabricated entire pump stands as well as conversion kits which adapt the B1 pump to a customer's existing pump stand.
Vane Pump Parts
Click image to open detailed PDF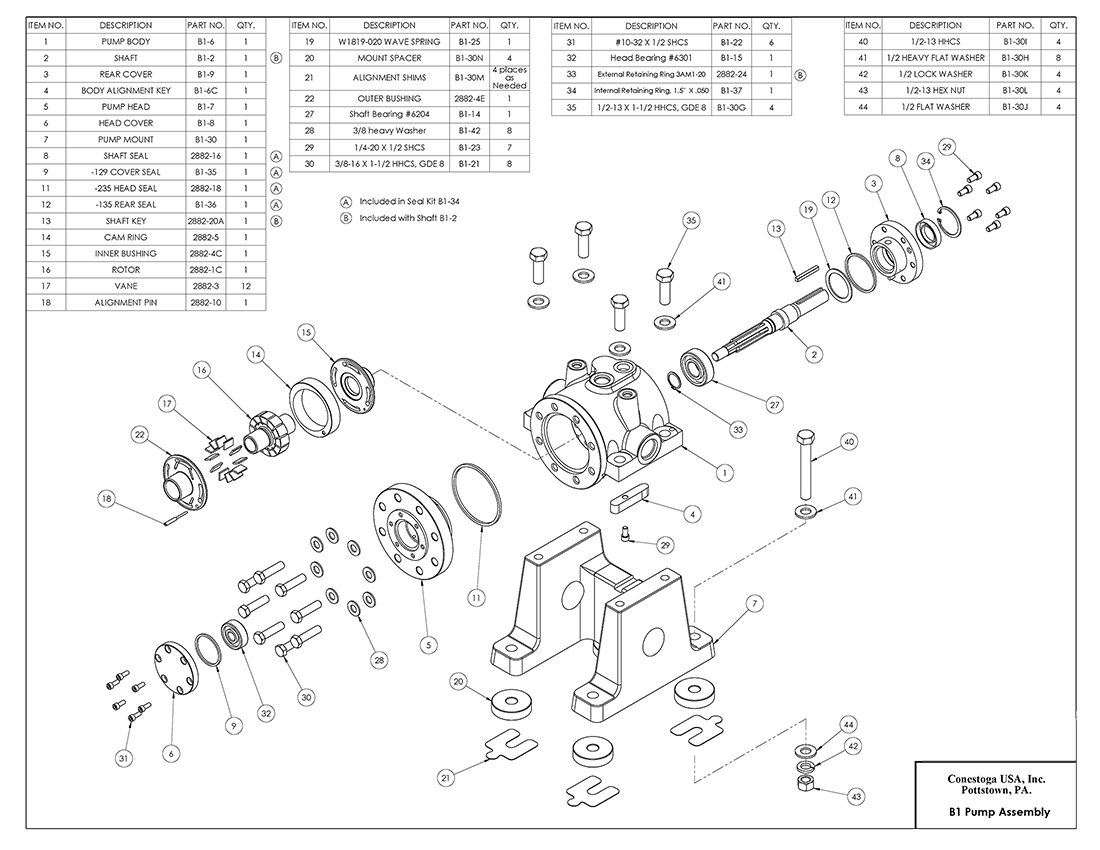 | Part # | Description | Vickers Part # |
| --- | --- | --- |
| B1 | Test Pump: Includes Items 1-13, 19, 20, 27, 28-35, 41 | |
| B1-34 | Seal Kit for B1 Pump | |
| 2882-34 | Seal Kit for Vickers V104 Pump | 919005 |
| 2882-16C | Grey Urethane Shaft Seal | |
| 2882-2A | Shaft for Vickers V104 Pump | 188328 |
| 2882-37 | Seal Retainer for Vickers V104 Pump | 185078 |
| 2882-38 | Head Bearing for Vickers V104 Pump | 1700 |
| B1-39 | Bench Mount for B1 Pump | |
| B1-40 | Bearing and Seal Installation Tool Kit for B1 Pump | |
| 2882-21L | Replacement Head Bolts and Washers (Kit of 8) | |